Numbers, numbers, numbers.  Whether it be politics, warfare, football or any other sport, the name of the game is outnumbering people at the point of attack.  Be that a run, pass, open look at the bucket etc, can you outnumber people at the point of attack.
K has often said that Riley "melts people's keys."  Below, I hope to illustrate how.  1st, against the number one rushing offense in the league, how OSU thought a 3 man front would shut down the Sooner run game just isn't logical.  There's a 4i, on the inside of Cody Ford, and that makes it easy for him to block down.  Samia is going to double down on the nose and then combo up to the mike.  In this case, the mike is moving presnap to the fullback while #1(the top blue arrow) is coming to take his place.  This is ultimately who Samia will come up to block.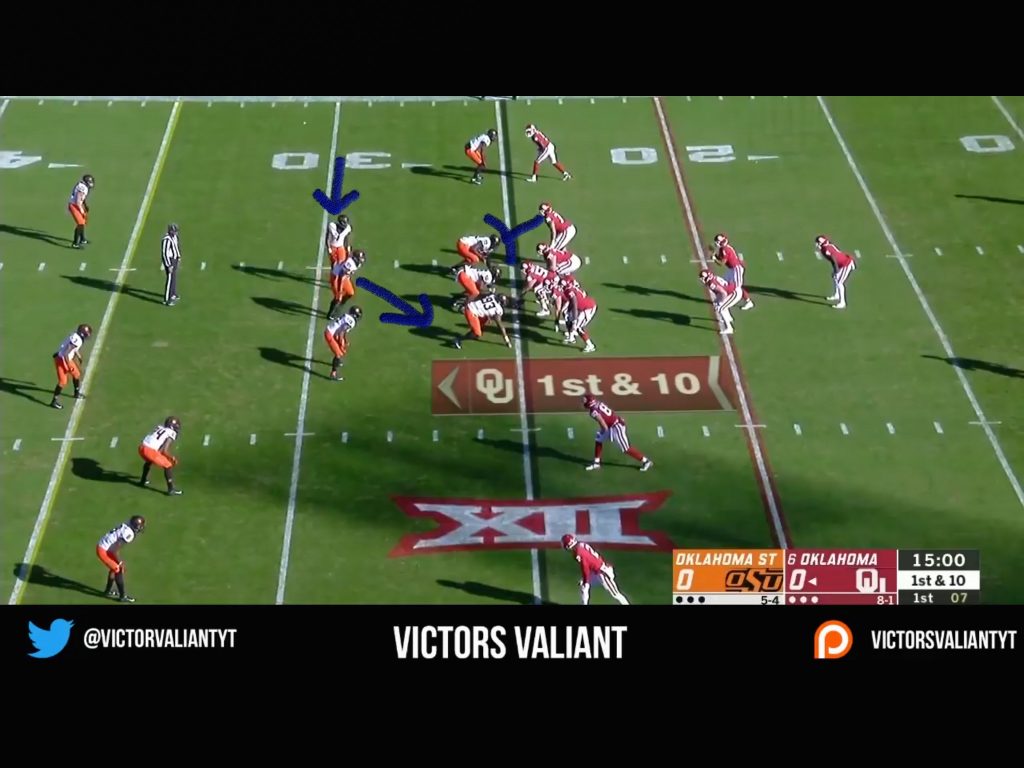 What melts the "keys", is there are a lot of things going on here.  Meier, the fullback is leading backside.  This is a read for Murray.  As he sees the linebackers flow with Meier, he knows he has Big Ben and Bobby coming around the end.  Two guys to block one.  Hollywood is selling the fake up top, and they have to respect him with two guys because of his speed.  Reason being if that playside safety flies up to shut down the run, Kyler just raises up and throws a skinny post to the house with Hollywood.  Still, the Keys are that the linebacker has to go with Meier, and the Mike is on an island.  He has to figure out whether to go with Sermon or to stay with Kyler.  He's damned if he does and damned if he don't.  And because of the speed of Hollywood and Murray, they cannot devote more people for run support.  They have to hope that their front six wins against Oklahoma's o line.  Sorry Cochise, that shat ain't gon happen.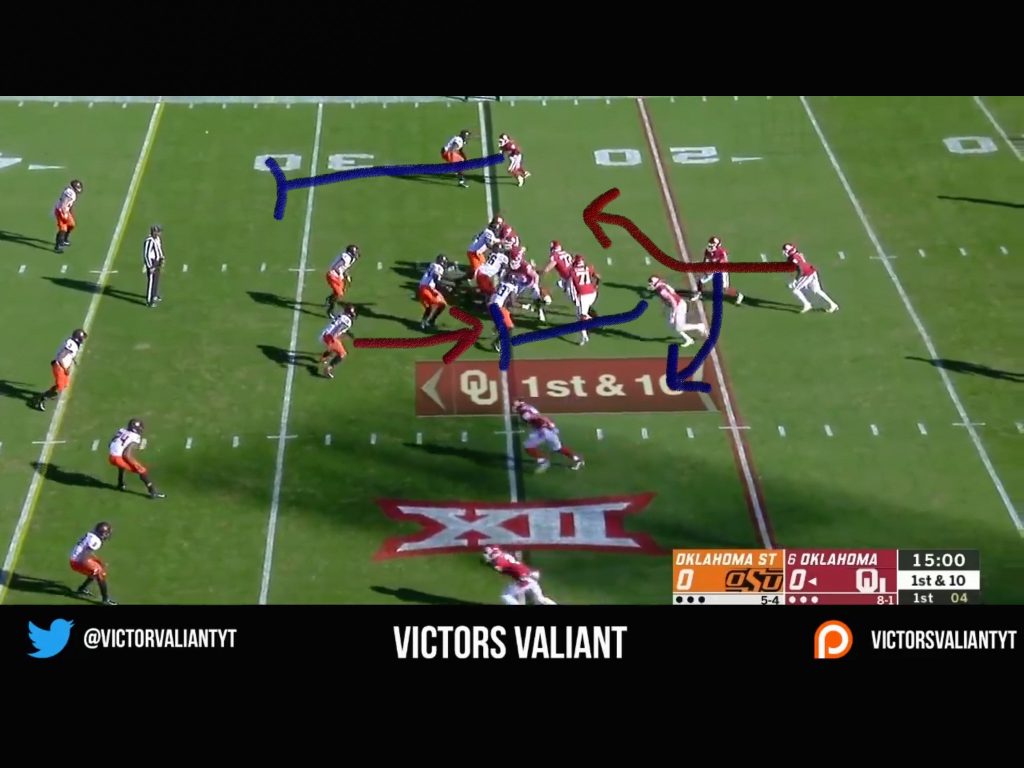 Here's numbers numbers numbers again.  I'm not a big fan of the wildcat simply because you know what's coming defensively.  Sermon isn't a pass threat here, but hey it works.  6 Okie Lite defenders to the left of Creed, and only three to the right.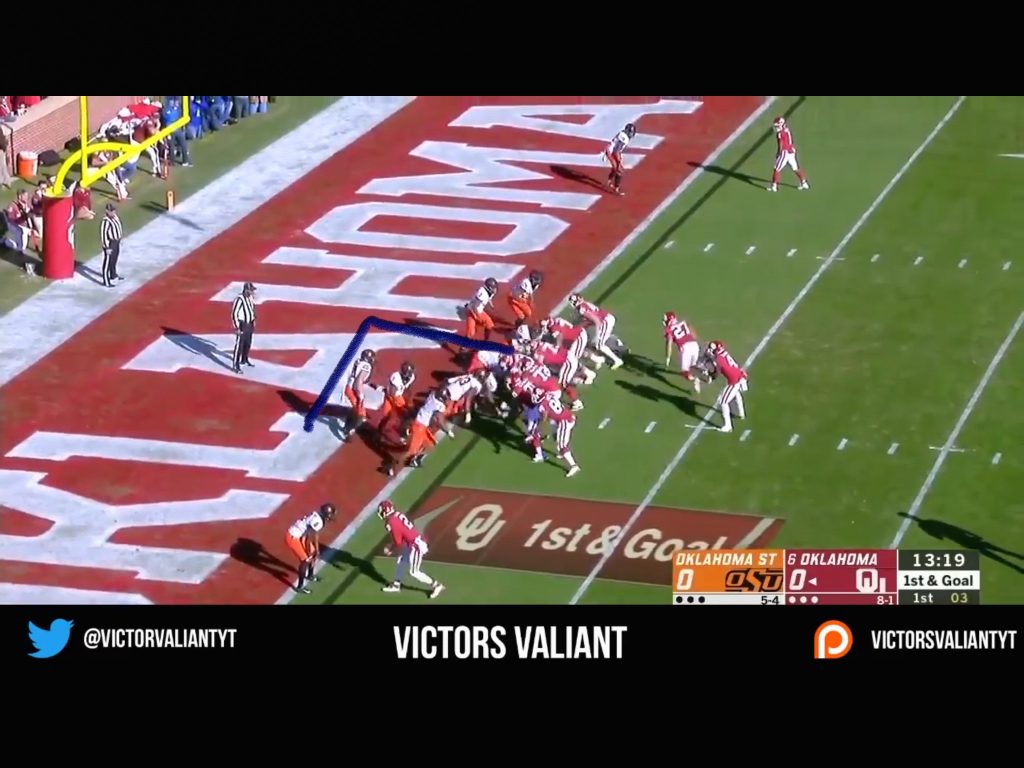 Look at the massive pile the Sooners O line has created to the left.  Those two defenders to the top are matched up on Big Ben who pulled around on the counter and Jeremiah Hall.  Sermon can hit the half a man(unblocked shoulder) that Ben is blocking and carry him into the endzone and that's exactly what he does.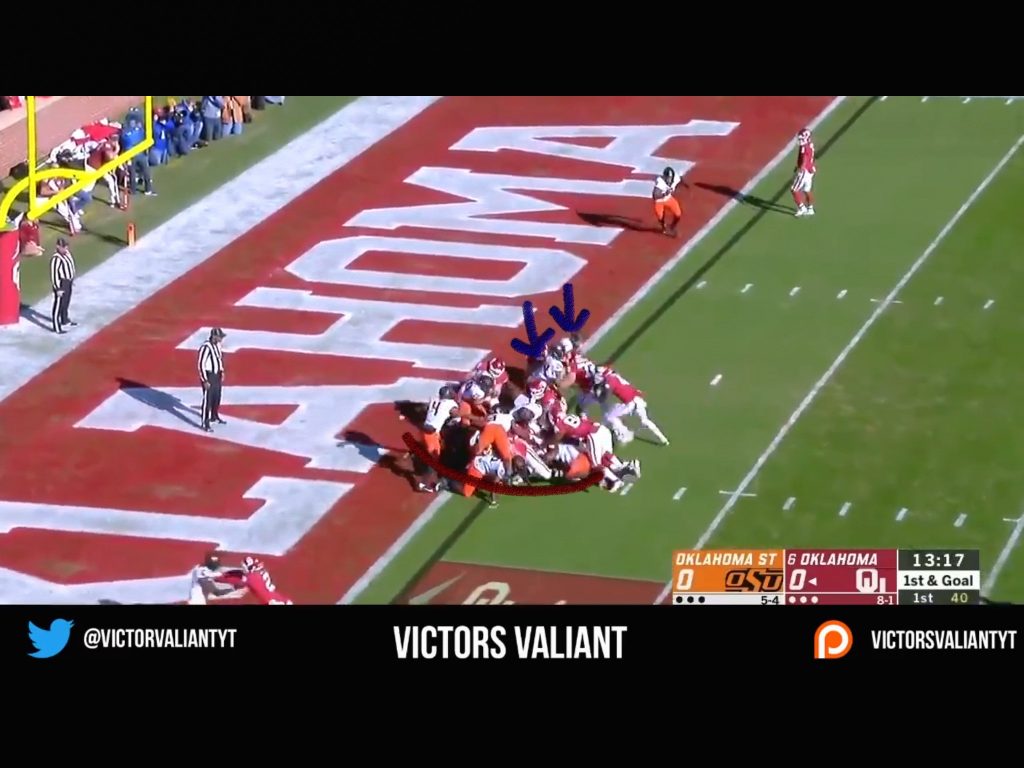 Lets focus on the top or defensive right side for a second.  You have Tre Brown, Robert Barnes and Curtis Bolton in coverage.  While you're three on three, there's wayyyy too much spacefor all three options.  If you're going to play it this way, you have to close down that space and take away how much room there is for the easy throw.  20 years ago when I was playing in meetings our qb's would talk about how automatic this would be to just raise up and throw it for an easy 8 yards.  It was automatic.    As for the defender to the bottom, who is he covering?  You have to slide your coverage over, just like you do your pass protection.  Bring Kelly into the box and put him on the right side of the formation defensively.  That's your strong side, and your Sam is lined up weak.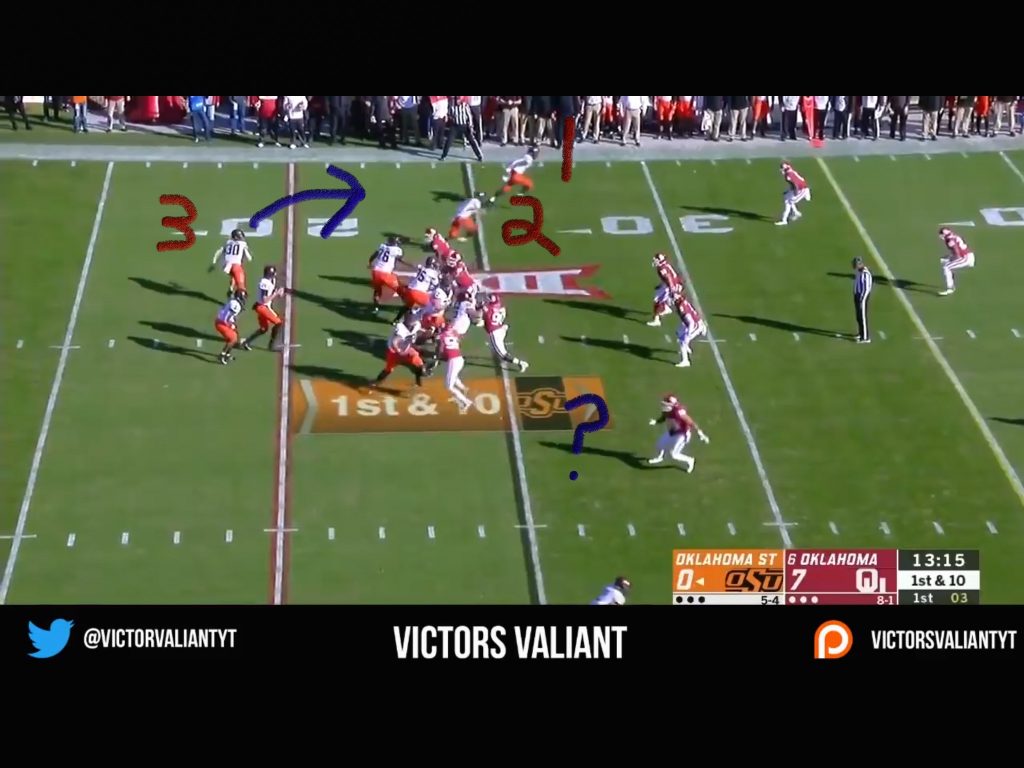 The pass rush has absolutely zero chance to get home.  Robert Barnes and Curtis Bolton have to cover entirely too much ground here.  The alignment of Bolton is fine, but you gotta get Kelly up on the line to cover this guy.   Bolton's responsibility has to be run first and then the back out of the backfield.  Unless I'm wrong, the Sooners just lined up wrong on this one.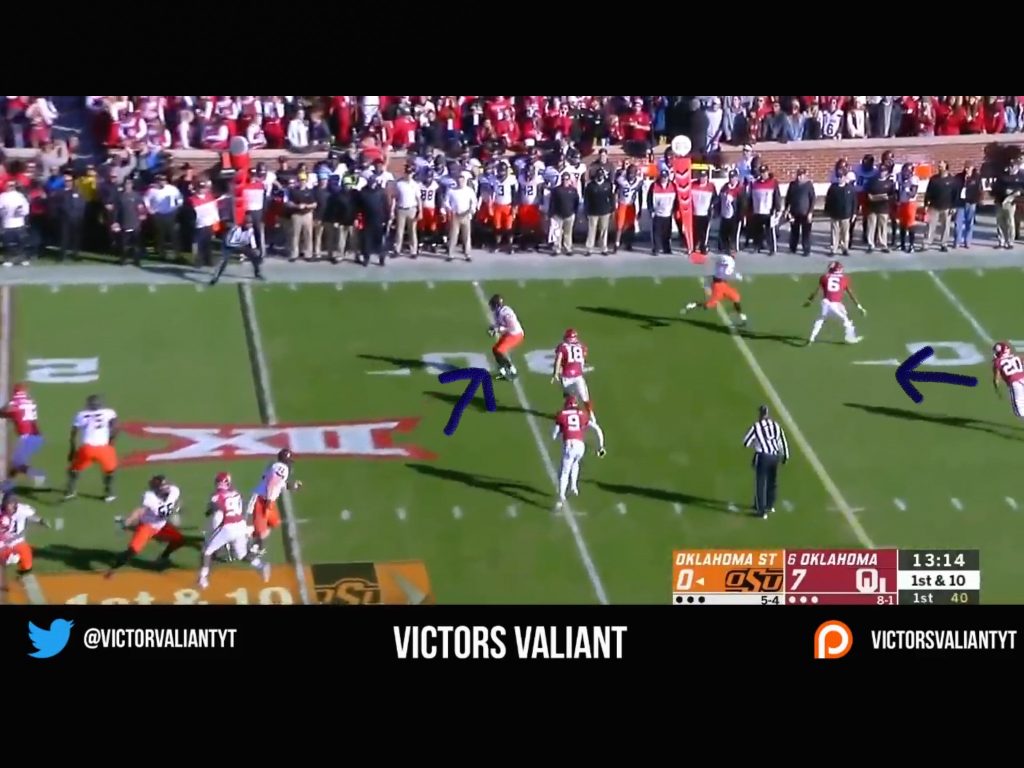 Up top Tre Brown is your fastest guy on the field.  Why is he giving up a nine yard cushion.  Both Bookie and Barnes are lined up to bail presnap.  To the bottom, Norwood is on Tylan Wallace.  He has to get up on that guy and Jam him.  If you don't get your hands on him then you're done.  Defensively, if you're that afraid of this guy, rotate Barnes to the middle and have Bookie bracket him.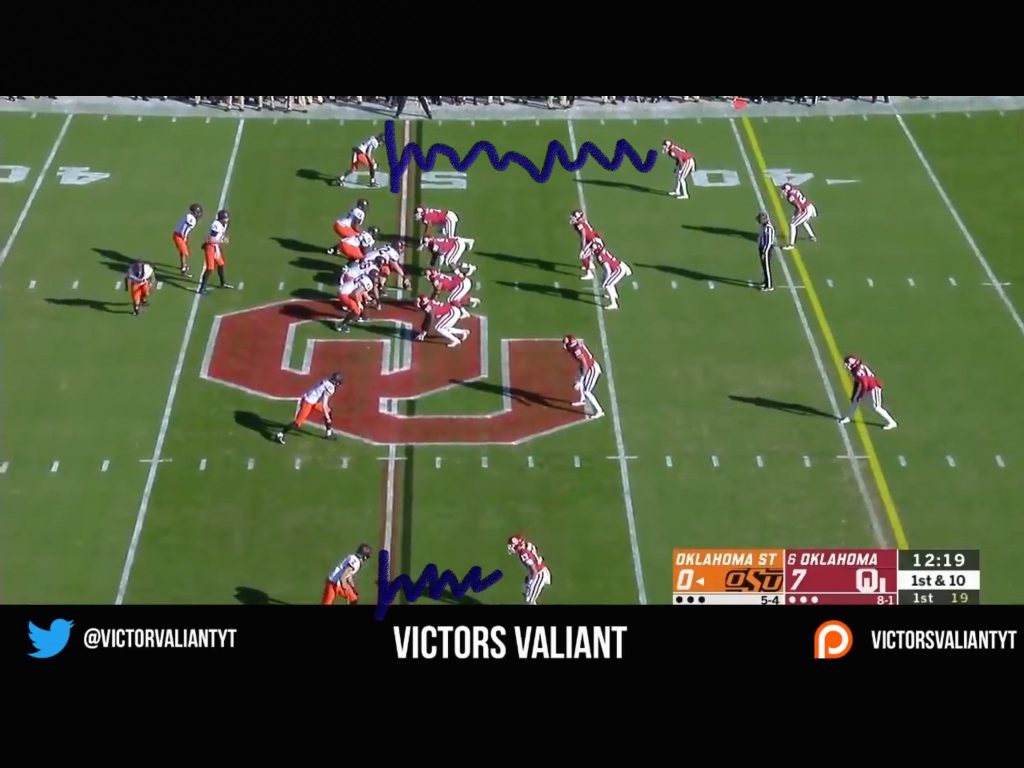 And I'm not a rocket surgeon here, but where's Bookie?  If he and Barnes are playing deep halves, where's the help over the top?  Also it took less than a three count for the QB to wind up and throw it.  If you don't put a quick swim on the o lineman as a rusher, you can't get there that fast.  Still you can only do that so much.  Time after time there was head scratching, mind numbing lack of technique top to bottom defensively.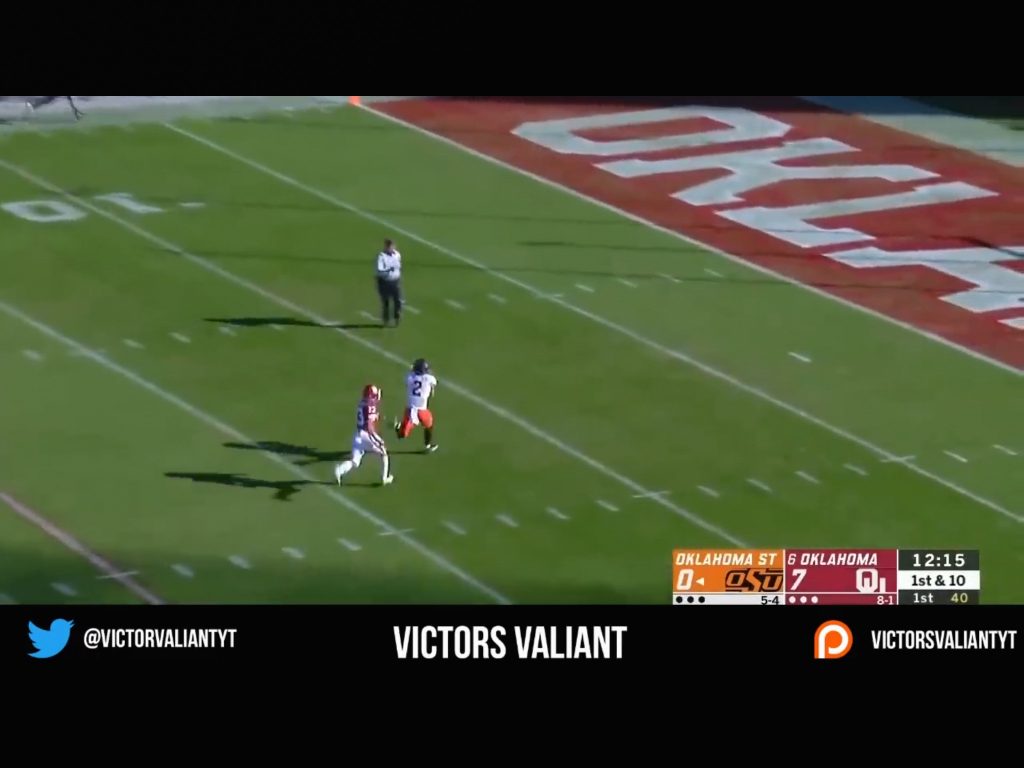 Pad level is one of the biggest issues the defensive line has.  They play too high.  A good defensive line doesn't allow, especially on the goal line for you as an offensive lineman to get under their pads.  It's like synchronized pop-tarting for the d line.  You can see em all, including Kelly at the bottom getting outleveraged.  Talent or no talent, you can keep your pads down.  If Jerry Montgomery is the D Line coach here, people are getting lit up.  1st you stand straight up, there's no pressing of the o lineman off of you, and it's an easy score.  The Sooners have issues with coaching at all levels of the defense.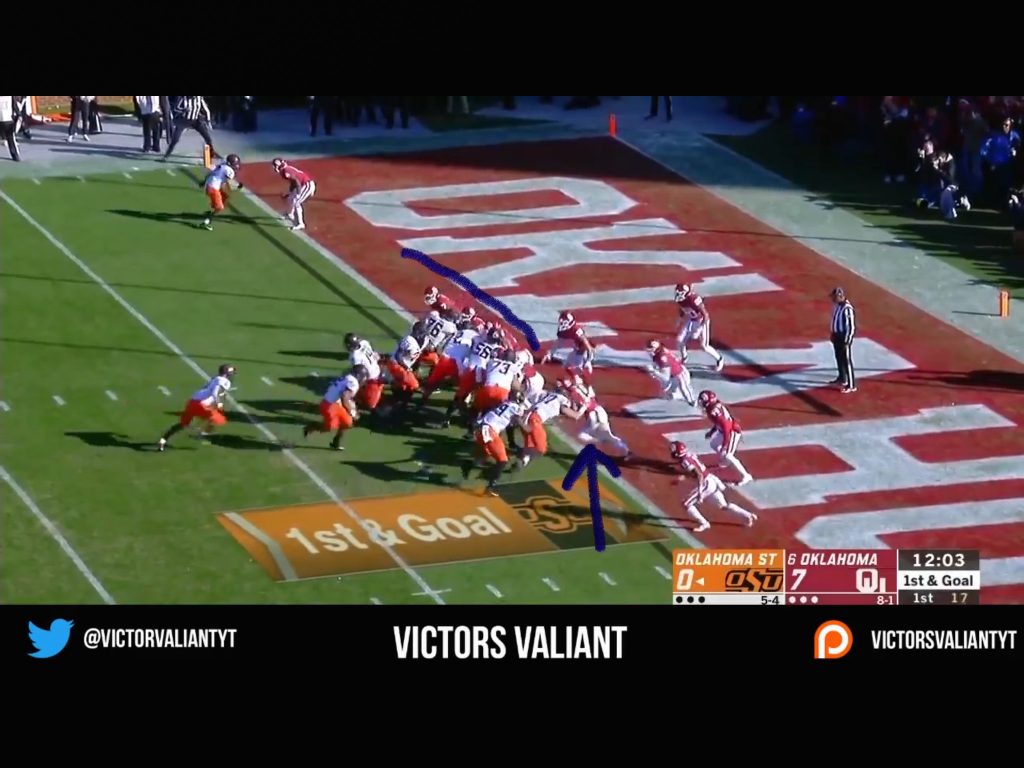 When the Sooners get the ball back, this is a zone read to the bottom.  If #8 defensively comes down hard to the running back, Kyler keeps it and walks into the end zone off the left.  There's great push up front by Hall, Meier, Evans and Powers.  Creed does a nice job running his guy out after he slants to the right.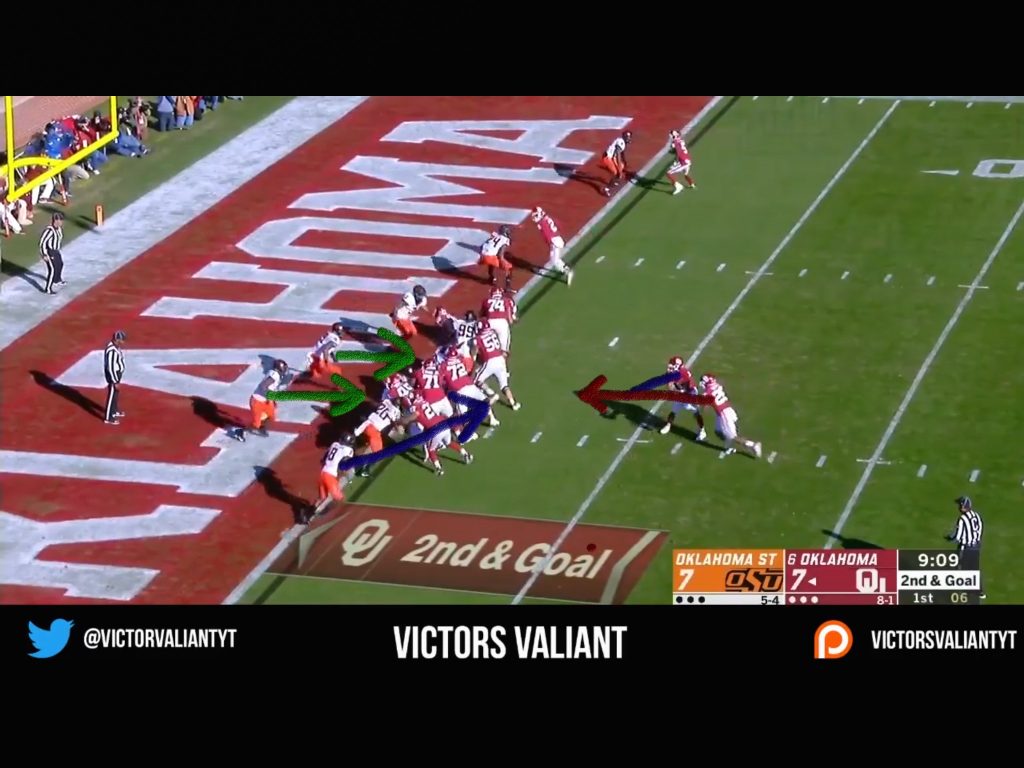 #8 stays outside in respect to Kyler's running ability, and it's just too late.  With the QB run game and Kyler's speed, it puts so much stress on the defense.  Carson Meier may be the best blocking tight end the Sooners have had in a long time.  Just to the top of Hall, he's driven his guy all the way to the bottom of the letters.  He could make an NFL roster simply because of his blocking ability.  He's becoming a great H-Back/TE.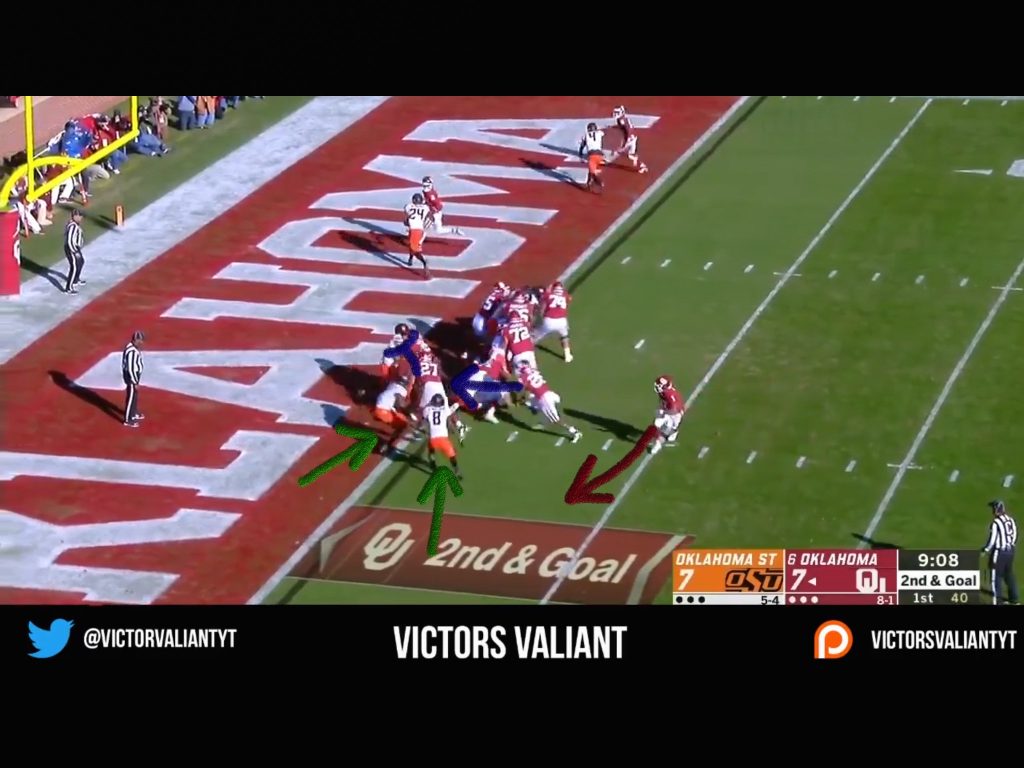 Here again, who's covering the guy on the 30 with the blue arrow?  It's 3rd and 2, you give up a 10 yd cushion, and nobody covers the slot.  Bookie's lined up outside, but he's on the wrong side.  If you're asking Ronnie Perkins to cover the slot, that's not a good look.  The guys a passrusher.  Let him rush the passer.  This crap is too easy!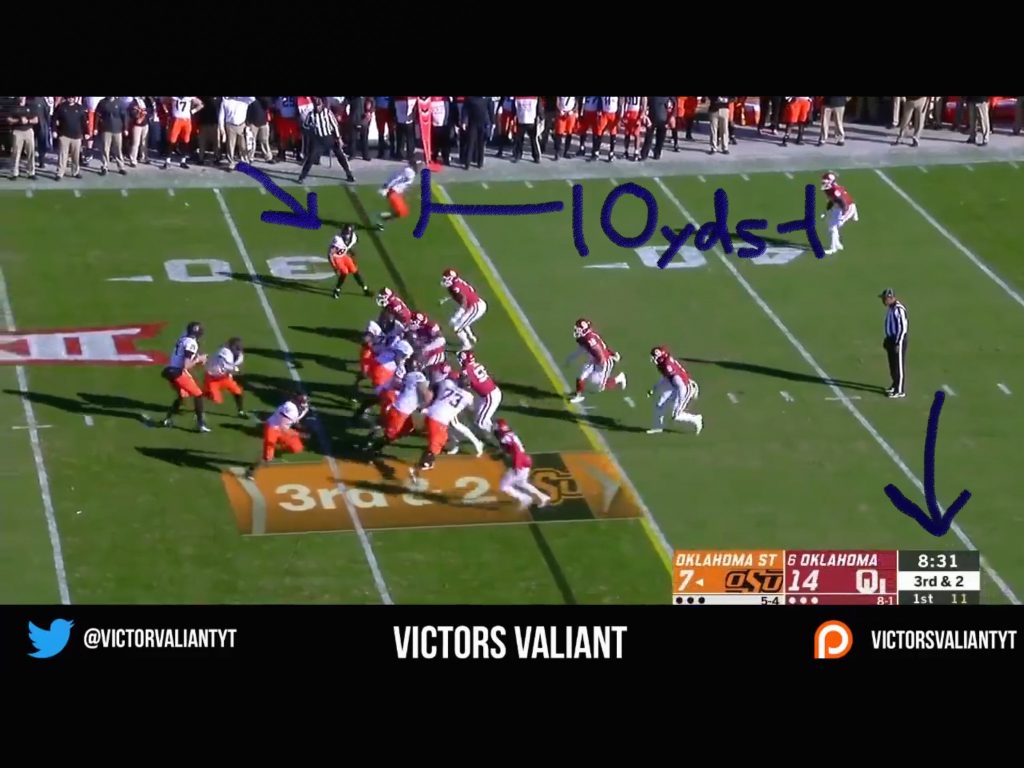 Why not send Ronnie to get in 14's face, and get Bookie over there jumping this route.  Have Tre get up on his guy, and if he outruns Tre Brown, then tip your cap and go have at it again.  With how the Sooners are lining up, there's absolutely no chance unless the offense makes a mistake.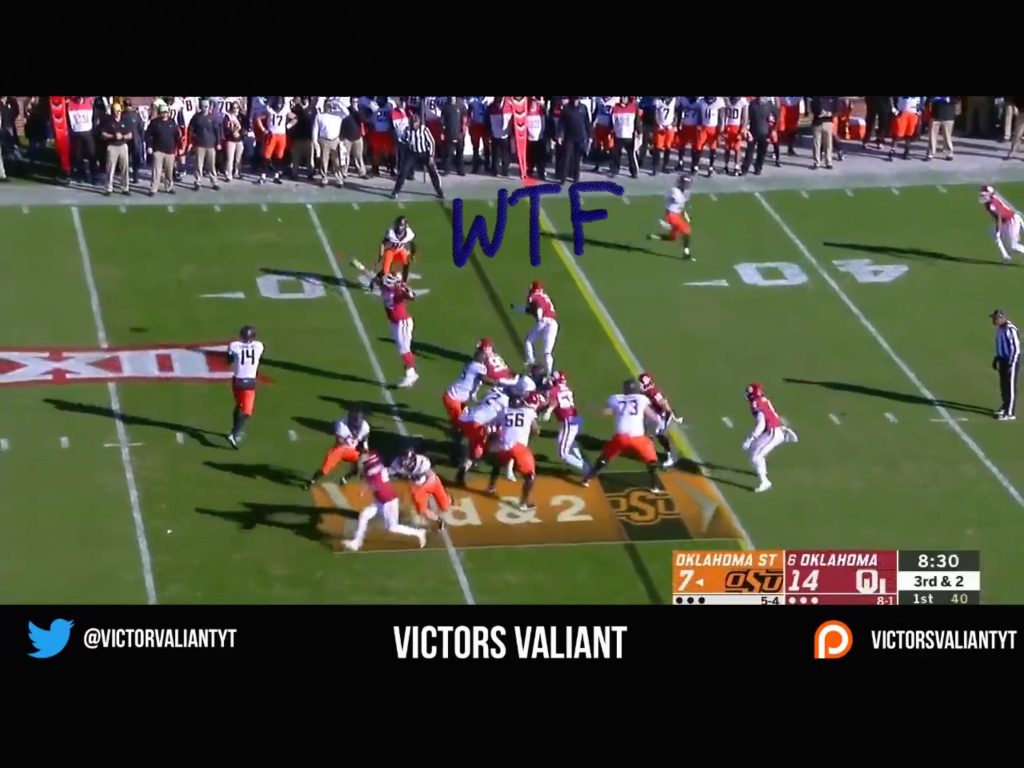 While I understand not wanting to change a lot mid-season, there are basic things you can do by simply lining up and covering everybody.  Pad level is something simple to do.  The effort is there, and that is a step, but man alive some of this basic stuff has to improve if the Sooners are going to have a chance in Morgantown