The fourth College Football Playoff Top 25 rankings of 2018 were released Tuesday ahead of conference championship week. The Top 10 looks like so: No. 1 Alabama, No. 2 Clemson, No. 3 Notre Dame, No. 4 Georgia, No. 5 Oklahoma, No. 6. Ohio State, No. 7 Michigan, No. 8 UCF, No. 9 Florida, No. 10 LSU.
We have some movement, finally!
Due to Ohio State's shellacking of Michigan, the Wolverines are out of the CFB Playoff race while Oklahoma and Ohio State will go head-to-head for the fourth spot in the rankings.
We'll delve into that scenario and more below.
Oklahoma vs. Ohio State
The committee's spoken and Oklahoma has the inside track for the fourth CFB Playoff spot.
The Sooners should advance to the CFB Playoff with a win over Texas this week in the Big 12 Championship. Yes, Ohio State also has a game to play in the Big Ten championship. But Oklahoma is set to face No. 14 Texas, while the Buckeyes go head-to-head with No. 23 Northwestern. There's a clear difference in those teams in the committee's mind.
Unless Oklahoma loses, Ohio State needs style points in a big way against the Wildcats. And even that doesn't guarantee anything.
I'm firm believer Oklahoma should rank ahead of Ohio State. The statistics show it, and the Sooners have simply been more consistent over the course of the season. Yes, the Buckeyes have the best wins between the two teams (Penn State, Michigan). But Oklahoma's only loss came by three against Texas, a rival and a top 15 team. Meanwhile, Ohio State must defend its 29-point road loss to a 6-6 Purdue. That should matter, and the committee continues to show that it does.
This debate will rage on for a while. But if Oklahoma takes care of business in the Red River Rivalry Part II, it should be in the playoff for the third time in four years.
Then again … it's not like we've never seen the committee jump Ohio State over a Big 12 team before. But unlike that year when the Buckeyes leapfrogged TCU, the Sooners have a championship game in hand to play as well.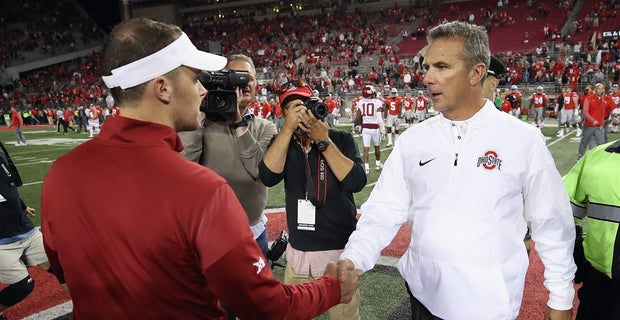 The Scenario That Ruins That Debate
Let's say Oklahoma and Ohio State take care of business convincingly Saturday. We're going to have a fun conversation about the two teams' merits. Well, maybe. It fully depends on the SEC Championship, which pits No. 1 Alabama vs. No. 4 Georgia in what is essentially a CFB Playoff play-in game.
But it's not necessarily an elimination game.
Alabama can lose by 10 points or less and get into the playoff. The Crimson Tide have shown to be a dominant team all season, and the committee's rated them as such despite a subpar schedule. If Alabama's only loss comes at neutral site against the nation's No. 4 team, do you really think that'll keep them out?
We saw last year a one-loss Alabama can get into the playoff without a conference championship. In that scenario the Crimson Tide didn't even win their division, and they still got in despite a defeat to a three-loss Auburn.
Georgia is the more interesting case.
What if Georgia loses a one-possession game to the nation's No. 1 team? That would give the Bulldogs two losses to a pair of Top 10 teams (along with LSU). I would put Oklahoma and Ohio State in over the Bulldogs – championships matter in the committee's consideration – but the eye test is the ultimate deciding factor. If Georgia plays Alabama close, there's a scenario in which the committee decides Georgia is the nation's fourth best team.
Do we really want a playoff rematch of the SEC championship game? I don't. But the committee's job is to pick the four best teams, and it's realistic to think that might include Georgia.
What fun the wake of that reveal would be. Two SEC teams and one unaffiliated program in the playoff? If that doesn't spark serious expansion, I don't know what would.
The Ultimate Chaos Scenario
Like to root for the underdog? There is a scenario in which the UCF Knights could make a play for the fourth spot. This is what would need to happen:
1. Alabama blows out Georgia
2. Northwestern upsets Ohio State
3. Texas beats Oklahoma for a second time this season
In that situation Alabama, Clemson and Notre Dame are playoff locks. But there would be a huge question mark as to the fourth spot. Even with McKenzie Milton's injury, the committee showed enough respect to slot the Knights eighth.
If things stay as they are and the one-loss teams ahead of UCF lose, there's a chance an undefeated Group of Five team, especially one on a 25-game win streak, could sneak into the playoffs. Is it likely? No. Is there even a guarantee UCF would place ahead of Oklahoma, Michigan or Georgia? No, the Knights don't even sit ahead of Michigan right now; The Knights do have a championship game to play. But there's a chance the seemingly impossible could happen, and that's intriguing enough to consider.