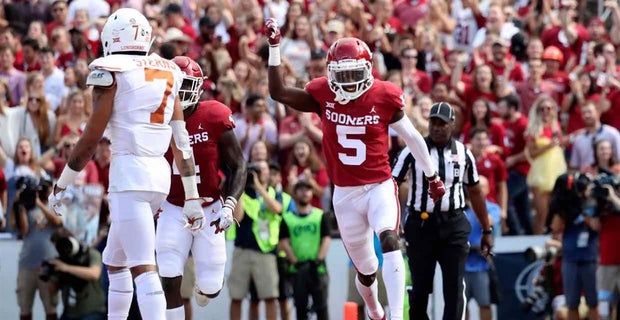 Remember when TCU pulled the "player laying down" kickoff trick against Ohio State? Apparently Oklahoma has that to thank for why gamebreaking wide receiver Marquise Brown was pulled from Saturday's game with nine seconds left.
The Austin American-Statesman's Brian Davis talked with the Big 12 about the play, then tweeted out the explanation.
"Why was OU's Marquise Brown removed from play with 9 ticks left," Davis asked, before explaining. "Big 12 tells me a rule interpretation after week 3 now states a player laying down should be treated as an injury and removed. Brown wanted to lay down and 'hide' before kickoff.
"The rule interpretation was called for by national rules editor Steve Shaw after TCU tried that vs. Ohio State," Davis said.
The play has actually been run several times by Big 12 teams in the past — the Philadelphia Eagles ran it even before TCU first got the notion — with no such change. TCU first ran it against Oklahoma in 2014, only to have a holding penalty negate the return which got the ball almost to midfield. In 2016, Kansas attempted the trick against Iowa State. And TCU ran it in week 3 against Ohio State, with the throw-back going for a touchdown before coming back because returner KaVontae Turpin illegally threw the ball forward.
Texas led 48-45 after Longhorn kicker Cameron Dicker connected on a 40-yard field goal, giving Oklahoma just nine seconds to try and take the lead back. That's when the Sooners went to try the trick play, having Brown lie down in the end zone to attempt a throwback to the speedy athlete. It certainly could have been a dangerous play — few players in the country are as fast as Brown, and even Texas coach Tom Herman said on Monday that the Longhorns lacked elite speed like Hollywood and quarterback Kyler Murray.
Instead, officials stopped the game and removed Brown, treating him laying on the ground as an injury and removing him from the play.
Of course, making this somewhat much ado about nothing, the kickoff was a touchback, and Oklahoma fell two plays later when the Sooners' lateral play didn't work.
Even so, it's fun to think about what might have been, if Oklahoma had been able to attempt the play. When it works right — as it did for TCU with the exception of an errant Turpin pass — the play results in one of the nation's fastest players flying down one sideline with everyone else yards away, trying to catch up.
Instead, Oklahoma took its first loss of the season and elected to fire defensive coordinator Mike Stoops after the game, replacing him on an interim basis with Ruffin McNeill.
Somewhat ironically, Oklahoma's next game comes against the TCU team that first showed the Sooners the return, with Oklahoma back in action at 11 a.m. on Oct. 20.