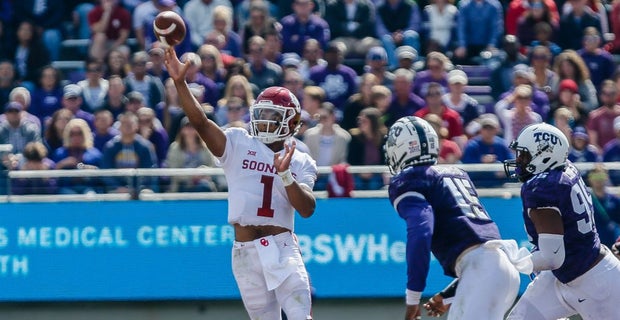 A week ago, the Twittersphere and football-viewing public swooned as the Kansas Chiefs and Los Angeles Rams combined for 105 points on Monday Night football. Four days later, the No. 6 Oklahoma Sooners and No. 13 West Virginia Mountaineers partook in a post-Thanksgiving 115-point shootout. Great, entertaining football, right?
Nope. Critics mocked the Big 12 for its lack of defense. Especially Oklahoma, the team from the Big 12 vying for a playoff spot.
Yes, the Sooners gave up 704 yards to West Virginia. But it's time stop the slander against Oklahoma's playoff chances. It's lazy, uniformed criticism that doesn't take into account the historic nature of what the Sooners are accomplishing from an offensive perspective.
Hawaii set the NCAA record for yards per play in 2006, averaging 8.58 yards per game. Oklahoma is on pace to crush that number, currently averaging 8.92 yards per play. That's right, the Sooners average over a quarter of a yard more than the best offense in NCAA history. And they're doing so against Power Five competition.
There's nobody close to Oklahoma offensively in history. Alabama's justifiably celebrated 2018 offense is averaging .88 fewer yards an attempt than the Sooners.
The Sooners, as they showed dropping 48 on Georgia in the Rose Bowl with a worse offense, can score on anyone. To think a SEC team could just walk into a stadium and slow them down is silly. Yes, the Oklahoma defense is bad. OK, really bad. But that doesn't mean Oklahoma isn't capable of winning a shootout. It's done so time and time again. And people need to consider the Sooner defense would look a little better against offenses with a less firepower and pace. Oklahoma's faced 897 plays this season. For perspective, Alabama's seen 770. That equates to 10 more snaps per game for a defense, which wears on a team.
It's not as if the Sooners' defense is alone in cracking under the strain of a high snap count.
Consider Michigan on Saturday. The Wolverines entered the week as the nation's top ranked defense. Ohio State, with speed and a spread system, shredded the Wolverines to the tune of 8.46 yards per play. Oklahoma hasn't come close to allowing a number that high this season. Clemson too faced an aerial onslaught Saturday against South Carolina. The Gamecocks averaged eight yards per play against what had been the nation's second ranked defense.
So, let's not pretend as if Oklahoma is the only team nationally capable of struggling.
It's worth looking at the College Football Playoff contenders and putting their yardage totals into perspective. To do so, 247Sports took each program's yards per play and yards allowed per play averages, subtracting the latter from the former, to figure out how their offenses and defenses balance out.

— Chris Hummer (@chris_hummer) November 26, 2018
Oklahoma's defense lags behind every other contender. The Sooners' offense dwarfs everyone. From an offense-defense perspective, Alabama is far and away better than the rest of the nation. But Oklahoma is in line with Clemson when you combine those two critical stats.
Ohio State is the team that will come up most frequently in reference to Oklahoma due to their likely proximity in the CFB Playoff debate. In that regard, consider that the Sooners' maligned defense allows only .16 yards more per play than the Buckeyes. On the other hand, Oklahoma averages 2.08 yards per play more than an Ohio State offense that is considered among the nation's best.
Yes, the level of competition and play style effects the numbers offensively across the board. But that works both ways. The Sooners defense faces other high-powered attacks from week to week.
The Big 12 is constantly belittled nationally. It needs to stop.
Oklahoma's offense is creative, inventive and the envy of even the NFL. You're in denial if you think the Sooners' point-scoring barrage wouldn't translate against a team from another league.
Mock the Sooner defense as you will. But it's important to evaluate Oklahoma in context. This is arguably the best offense we've ever seen. In this college football offensive age that can make up for a lot.