It seems as  though every discussion of Oklahoma's offense begins and ends with Heisman Trophy winning quarterback Kyler Murray, and that includes discussion of the Sooners by Alabama nose tackle Quinnen Williams.
But Williams has to be familiar with some other Oklahoma players, too, as the Crimson Tide prepares for the College Football Playoff semifinal game in the Orange Bowl Dec. 29 when No. 1 Bama takes on No. 4 OU. Williams will be up close against the Oklahoma line that has been named winner of the Joe Moore Award as the nation's best offensive front.
"They are very good," Williams said Tuesday. "I feel like they are the most technically sound offensive line we have gone against. They do everything together. You can see the chemistry together on the way they make their calls. It's going to be a great challenge. I feel they are one of the best offensive lines we're going against, one of the closest offensive lines that we're going against, because they really feed off each other."
His words echoed those of voters for the Joe Moore Award.
Among comments were "technical and fundamentally sound," "exemplified teamwork," "efficient in both protection and run game."
Oklahoma leads the country in points per game (49.5) and yards per contest (577.9).
As is often the case, Oklahoma's offensive line doesn't include household names, although senior left guard Ben Powers (12 starts) was an Outland Trophy semifinalist. The others are junior left tackle Bobby Evans (13 starts), redshirt freshman center Creed Humphrey (11 starts), senior right guard Dru Samia (13 starts), and redshirt junior right tackle Cody Ford (13 starts).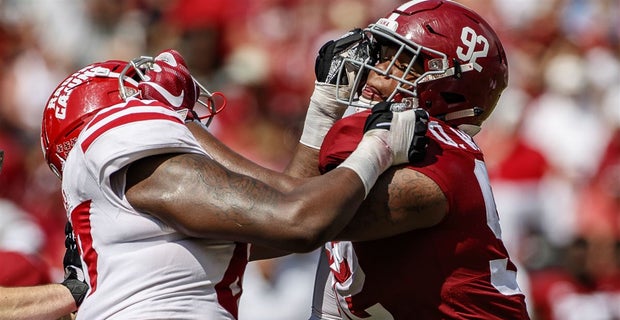 It's likely, too, that those men are familiar with Quinnen Williams and his defensive line teammates, Raekwon Davis and Isaiah Buggs.
Williams, a 6-4, 295-pound redshirt sophomore, was a unanimous All-America this season, and received Heisman Trophy votes — including being first on one ballot. Williams said he "was just very happy for the guy who won it, a very great player. It was a blessing to be in the talk of it."
The guy who won it, of course, was Oklahoma's Murray, and Williams had compliments for him. "He's a very explosive player," Williams said. "He can do it all — run the ball, throw the ball — just the all-around quarterback that you want to see.
"They can do it all. They have the perfect balanced offense that you want to see in college or the NFL. They can run the ball efficiently. They can pass the ball efficiently. They have a great quarterback who can throw you open. They have a great quarterback who can put it where it's supposed to be and he can extend plays. That's the real big thing that he can do. He can make seven seconds into 10 seconds or he can make three seconds into seven seconds, so really get to him quick and really confusing him, just trying to affect him in all the ways we can.
"Kyler Murray can run around you and make you miss in the pocket, throw the ball deep, extend plays."
Williams outlined the challenge for the Tide defensive line.
He said that Murray's ability to escape the rush doesn't change the way Bama's defensive front will play. "You really have to close the pocket in, make sure you get a fence around him," Williams said. "Pushing the inside pocket will be a big thing. We have great edge rushers in Christian Williams, Anfernee Jennings, and Jamey Mosley, so me, Raekwon Davis, and Isaiah Buggs have to push the pocket, collapse the pocket on him. It's going to be a big task, but that's the main challenge."
Williams said that Bama's defensive line height can be a factor against the 5-10 Murray on quick passes. "Get your hands up," he said. "Kyler is short. We've got Raekwon 6-7, I'm 6-4, Buggs 6-4. Getting our hands up, Just affect him in general. Get pressure on him. Get hits on him."
The Tide nose tackle said that the layoff between Alabama's Southeastern Conference Championship Game win over Georgia on Dec. 1 and the Orange Bowl game on Dec. 29 is "a positive because we get to really watch film. We get to really look at technique. We get to get our bodies back to the first game of the season."
Watching film is two-fold, he said. There is the chance to look at Oklahoma against all its 2018 opponents, and also a chance to correct mistakes. He said in the Georgia game "we had a lot of missed tackles and mental errors in the first half and the first of the second half."
Bama's 2015 offensive line was winner of the inaugural 800-pound Joe Moore Award trophy. The committee said the vote this year was "unprecedentedly close," OU edging out Alabama and Georgia.