TUSCALOOSA, Ala. — There is only one player on Alabama's roster from the state of Oklahoma.
Junior running back Josh Jacobs, a native of Tulsa, Okla., is that player. But even as someone that's looking forward to facing his home-state Sooners, Jacobs isn't approaching the Dec. 29 game against Oklahoma in the Orange Bowl semifinal differently than any other contest.
"It's a game you always dream of," Jacobs said. "If not going there, playing against your hometown. I'm going to treat it like every other game. Hopefully, we come out here with a victory."
Jacobs was a late bloomer in terms of receiving Power 5 offers as a high school recruit.
The first-team All-State selection by the Oklahoma Coaches Association and OKPreps.com did not appear on the Crimson Tide's recruiting radar until after the national title game in 2016. He received an offer after then-running backs coach Burton Burns visited him in person. Prior to that offer on Jan. 29, Jacobs only held interest from teams like Wyoming and New Mexico State.
But Jacobs said Oklahoma stopped by the check on his just before Burns.
"It was right about the same time, probably two or three days before," Jacobs recalled. "Coach Stoops came down, and they talked to me at my high school. And that was that."
He ultimately chose Alabama over Oklahoma and Missouri, which led to some local pushback.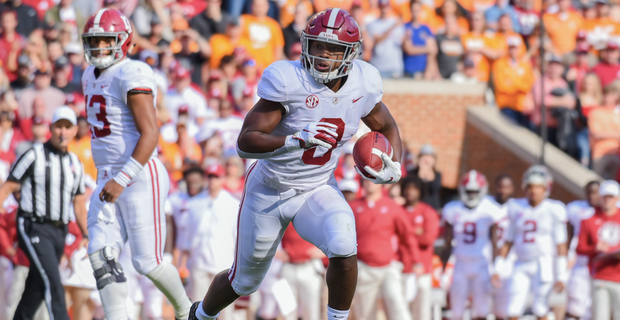 "I mean, it was just some people in my hometown that expected me to go there," Jacobs said. "It's the same people who didn't know about me when I was coming out so it really didn't matter.
"… There's a lot of people who are Oklahoma fans but they're fans of me. So, if we go against them — which we are — they will be rooting for me."
The Tide started its on-field preparation last week for its semifinal game against the Sooners.
Jacobs said he watched Oklahoma throughout the season but more for interest than studying. He knows a lot of players on the team he and his teammates will try to beat in 12 days in Miami Gardens, Fla. Now, his focus is on the Sooners and learning how to attack their defense.
OU is known for its offense, while its defense has been suspect this season. In the Big 12, the Sooners ranks last in scoring defense (32.4 points per game), passing defense (291.4 yards per game) and ninth (out of 10) in total defense (448.1 ypg). What Jacobs will mostly compete with — the Oklahoma rushing defense — ranks fifth in the Big 12 by giving up 156.69 yards per contest.
Playing against the nation's worst passing defense statistically, however, won't alter Alabama's approach in this College Football Playoff game, just like Jacobs' approach to facing his home-state team.
"It doesn't change," Jacobs said. "We're still going to try to do what we do. Offense, whatever we can do to win the game, so that is going to be our focus going into it."
Contact Charlie Potter by 247Sports' personal messaging or on Twitter (@Charlie_Potter).
*** Don't miss a VIP update with our FREE trial of BamaOnLine. Sign up HERE ***