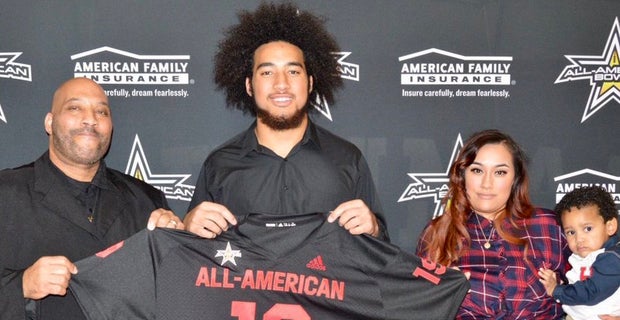 The All-American Bowl Selection Tour picked back up on Monday with a stop at Camden (Ark.) Fairvew to honor Top247 offensive tackle Stacey Wilkins.
The four-star Oklahoma commit was presented his jersey to play in this year's game during a ceremony in front of family, friends, teammates and coaches.
"It was fun," Wilkins said.
The All-American Bowl will be played inside the Alamo Dome in San Antonio, Texas on Jan. 5 with the national broadcast set for NBC. The game has featured 380 NFL Draft picks including 86 that have gone in the first round, 16 Heisman Finalists, 52 Super Bowl Champions and 11 NFL Rookie of the Years among its alumni.
"Me being able to compete with the best athletes in the nation and being able to have fun," Wilkins said of what he's looking forward to. "It means a lot. Not many people get the chance I get, I just want to take advantage of it the right way."
The 6-foot-6 1/2, 271-pound Wilkins is one of the jewels of a Sooners recruiting class ranked No. 8 nationally by the industry-generated 247Sports Composite. He gave head coach Lincoln Riley and the staff his pledge over an offer list that included Alabama, Arkansas, Clemson, Florida, Florida State, Georgia, Miami, Missouri, Texas, Tennessee, Texas A&M and USC among others.
Wilkins plans to sign early on Dec. 19.
"All the success they have right now and the big thing people overlook is the offensive line and the success they have with that," Wilkins said. "When I get up there I want set the tone and let everyone know I'm there work."
Wilkins feels close to Riley and future offensive line coach Bill Bedenbaugh.
"Me and Coach Bedenbaugh we have a real good relationship," Wilkins said. "He understands where I come from with a lot of stuff. Me and him talk a lot and he'll be my second father when I get there. He'll be able to take care of me and show me the best path to be the best player I can be if I did what he asks them too.
"Coach Riley is like a father figure too. I can talk to him about everything. He's down to earth and wants the best for you."
Wilkins performed well at the U.S. Army National Combine last January and returns to play in the game this year. The 247Sports Top247 Player Rankings tabs him as the No. 10 offensive tackle in the country and the No. 72 prospect overall.
Other Oklahoma commits set to play in the All-American Bowl includes quarterback Spencer Rattler, receiver Theo Wease, tight end Austin Stogner and offensive lineman EJ Ndoma-Ogar.