FORT LAUDERDALE, Fla. — Nick Saban is superstitious.
Whether it's the socks, shoes or suit the Alabama head coach wears on game day or something he carries in his pocket, Saban believes that a routine is important to be successful and efficient.
Ahead of his fifth straight appearance in the College Football Playoff, Saban is likely to choose to bring out all the superstitions he can tomorrow in facing the fourth-ranked Oklahoma Sooners.
The 24-hour countdown until the Capital One Orange Bowl kicks off is quickly approaching, and then everyone will have an opportunity to watch the nation's top-two scoring offenses duke it out inside of Hard Rock Stadium for an opportunity to compete for a national championship.
No. 1 Alabama and No. 4 Oklahoma will take part in one of the most anticipated postseason games of 2018 because it will pit the Sooners' No. 1-ranked scoring offense, which averages 49.5 points per game and Heisman-winning quarterback Kyler Murray, and the Crimson Tide's second-ranked scoring offense (47.9 ppg) and record-setting signal caller Tua Tagovailoa.
And Saban, a defensive coach, has not tried to hide his respect for OU's quarterback.
"I think the guy is one of the most dynamic players that I have ever seen in college football in terms of his skill set," Saban said Friday in a joint press conference with Oklahoma head coach Lincoln Riley. "He can beat you with his feet. He's got great speed. He's very athletic.
"He's a good passer. They have an outstanding scheme that really challenges you defensively and takes advantage of his skill set in every way, which is pretty obvious by the production that they've had all season long in terms of their ability to score points, make explosive plays, his ability to make explosive plays, and to distribute the ball in a way that all the other players on his team have an opportunity to make explosive plays."
Murray, whose 96.1 Total QBR is the highest by a player entering bowl season since ESPN began tracking the metric in 2004, has totaled more offensive yards this season (4,945) than 68 of the other 129 Football Bowl Subdivision teams, including six current AP Top 25 squads.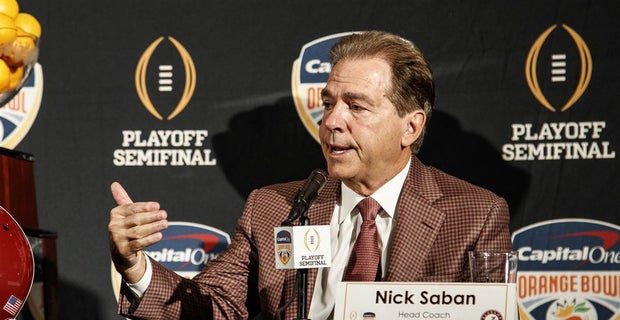 Murray is the first FBS player to ever average at least 300 passing yards (311.8) and at least 60 rushing yards (68.6) per game entering bowl play. With his ability to effectively make plays with his legs once the pocket collapses, containing him will be a top priority for Alabama.
Dynamic has been the word Saban and the Tide players have routinely used to describe Murray, and with him leading such a high-powered offense, the 12th-year head coach was asked if that affects the other phases of the game, being Alabama's offensive and special teams units.
"I think that there are certain things in each team and every game that you play that you're always going to look at the style of play of the other team and try to define for your team exactly what you need to do to win," Saban said. "And I think when you're playing against a team that has tremendous firepower, which Oklahoma and Coach Riley's team certainly has, if you're going to not execute well in the game, turnovers, dropped balls, not continue drives on third down, let them have extra opportunities in the game, you're actually enhancing their opportunities to a large degree, and that's something that you definitely want to avoid. 
"But it still comes down to your ability to execute, whether it's offense, defense or special teams, that are going to create better situations for your team and not create extra opportunities for their team."
Oklahoma is looking to become the first FBS team to ever produce a 4,000-yard passer (Murray has 4,053), at least two 1,000- yard rushers (Kennedy Brooks has 1,021, Trey Sermon has 928 and Murray has 892) and at least two 1,000-yard receivers (Marquise Brown has 1,318 and CeeDee Lamb has 1,049). They have spread the football around and accomplished a lot in 2018.
But with ample time off and plenty of time to devise a game plan, there is always a possibility of a surprise or two during bowl season. Saban is hopeful the Crimson Tide is lucky and avoids that Saturday when the two teams face off in the semifinal game at 7 p.m. CT on ESPN.
"Any time a team has extra time to prepare, obviously it gives you a chance to do some things differently," Saban said. "I think players' ability to adapt and adjust in games, as well as coaches' ability to help them do that, is probably critical when you play in games like this. I mean, Coach Riley over here, he's got lots of plays, and we haven't been able to cover all the ones that they did all season long. We're working on it, though (laughs)." 
Contact Charlie Potter by 247Sports' personal messaging or on Twitter (@Charlie_Potter).
*** Don't miss a VIP update with our FREE trial of BamaOnLine. Sign up HERE ***