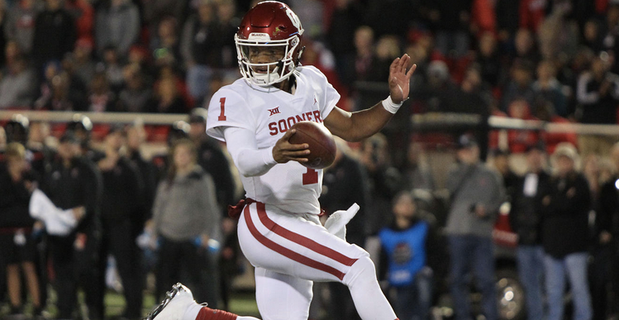 Kyler Murray, Oklahoma's Heisman-winning two-sport sensation, has a decision to make about a playing future that may not be etched in stone just yet according to a pair of longtime NFL insiders.
Murray, who signed a baseball contract earlier this year with the Oakland Athletics, is deciding between the NFL Draft and spring training, a choice that could surprise many who have followed his career intently over the past year with the Sooners.
ESPN veteran NFL insider Chris Mortensen and longtime NFL savant Gil Brandt believe Murray's first love is football and he could submit his name to the NFL Draft or, arguably the longshot option, return to the Sooners for another season on the gridiron.
When Gil tweets something like this, pay attention. People who know @TheKylerMurray say there is no doubt he loves football more than baseball. Also awaiting decision by Jan. 14 underclassman NFL draft deadline. Some NFL GMs say he's a 1st round projection. Intriguing options. https://t.co/eJlvV4ujPw


— Chris Mortensen (@mortreport) January 5, 2019
This echoes what NFL insider Adam Schefter said last month in talking to several NFL front offices.
"We know he's committed to baseball, but we know he's not going to be ignored in football," Schefter said. "There was a general manager who told me yesterday (Dec. 8) that he believes Kyler Murray is a first-round pick in football, not just baseball. Now we'll see how this unfolds this upcoming spring, but the (NFL) believes the success that he had and the skills that he showed … the success that Baker Mayfield has had in the NFL helps Kyler Murray.
"Now, is there going to be a team in the NFL that goes and uses a first-round draft pick on Kyler Murray? That's hard to imagine just because he is committed to baseball, but do I think he's going to be drafted? Absolutely in the NFL."
Scott Boras, Murray's agent, said in December his client would report to spring training and fulfill his promise to the A's. During an interview that aired several times prior to Oklahoma's Playoff game vs. Alabama, Murray told Tim Tebow he hadn't decided on which sport he'd play at the next level.
"I think that's something me and my family will talk about at the end of season, weigh out what the NFL thinks of me," Murray said. "Right now, my future is kind of already planned out, but we'll see what happens."
Asked if he had given any thought to returning to Norman, Murray was staunch.
"As or right now, nah, nah," he said.
Murray was incredible this season for the Sooners, finishing with 4,361 yards passing and 42 touchdowns. He also rushed for 1,001 yards and 12 scores. Murray was responsible for 417 yards and three touchdowns in Oklahoma's season-ending loss to the Crimson Tide.