It is ironically fitting that the biggest moment for Alabama junior running back Josh Jacobs was lost in Crimson Tide success. Jacobs rushed for a game-high 83 yards and two touchdowns in the Southeastern Conference Championship Game victory over Georgia, but his performance came primarily before the Bama comeback.
Overshadowed by Jacobs being selected as the MVP was that come-from-behind victory orchestrated by Alabama backup quarterback Jalen Hurts. Had the SEC not concluded voting for the MVP honor with five minutes remaining in the game, Hurts almost certainly would have taken the trophy. As it was, the shine of Jacobs's performance was diminished.
In the SEC title game, Jacobs averaged 10.4 yards per carry on eight rushing attempts to pace the Tide ground game. He is just the sixth UA back to rush for multiple touchdowns in an SEC Championship Game. In fact, he has done it twice.
As a freshman in 2016 in Bama's 54-16 win over Florida, Jacobs took a blocked punt into the end zone for one touchdown and scored on a 6-yard run for another.
"This was different," Jacobs said following this year's win over Georgia. "My role was bigger in this game. This was special."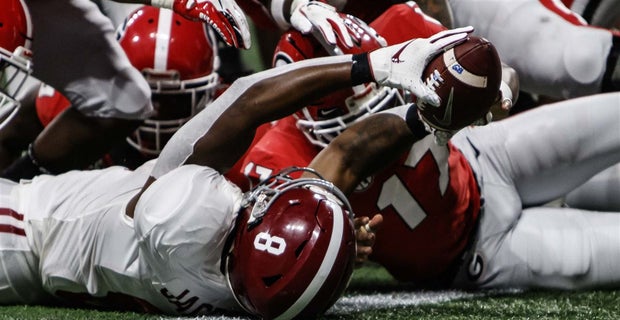 One of his touchdowns against the Bulldogs was almost a disaster. The official record shows only "Josh Jacobs 0 yard fumble recovery," but there was much more drama. Just as he reached for the goal line from a yard out, the ball came out. The first call was that it was a fumble recovered by Georgia in the end zone for a touchback. The review correctly showed that Jacobs had regained possession of the ball and held it up over the goal line for a touchdown that cut the Georgia lead to 21-14 late in the second quarter.
Following the game, Jacobs said, "I knew I had it and held it up so the official could see it. I knew it was going to be a touchdown."
That TD had been set up by Jacobs's 59-yard run to the Georgia 16.
He added, "I think I lost my concentration a little (on the TD try from the 1) because I was still thinking that I should have scored on the long run, but took too long changing the ball to my left arm."
He had also scored Alabama's first TD of the game, taking the direct snap at wildcat and driving in from a yard out to tie the game at 7-7 on the first play of the second quarter.
Jacobs said he sensed some anxiety on the Tide sideline as Georgia pulled out to a two-touchdown lead. "I talked to my teammates, told them not to worry about making big plays, just to execute the way we know how. That's exactly what we did."
From the day Jacobs was signed by Alabama in 2016, he has been somewhat in the shadows, albeit with outstanding moments. He was a wildcat quarterback at McClain High School in Tulsa, Okla., with almost no high profile scholarship offers. The Crimson Tide staff got wind of him, checked out his film, and sent then-running backs coach Burton Burns to watch Jacobs play basketball, mere days before Signing Day.
Burns, who brought numerous high-profile and high-quality running backs to The University, liked what he saw and his recommendation to give Jacobs a scholarship resulted in Bama landing the four-star against almost no recruiting competition (although Oklahoma and Missouri came in after the Tide offer).
Jacobs has turned out to be a gold nugget find, but appreciated almost not at all beyond the Alabama team and its followers who have seen his production.
It is reasonable to suggest that on a team of superstars, Jacobs has been the most underrated Tide contributor.
Jacobs is a runner first, but not Alabama's first runner. He is usually the second or even third option behind Damien Harris and along with Najee Harris.
He has also been an outstanding kickoff return man, including a TD runback in Bama's season-opening win over Louisville. He also catches the ball out of the backfield, part of the distribution of passes from Alabama quarterbacks.
For the year, Jacobs has 94 rushes for 495 yards, a 5.3 yards per carry average, and a team-high 11 rushing touchdowns. The 59-yard run against Georgia was his longest of the year.
He has 13 kickoff returns for 398 yards, a 30.6 average, including the 77-yard TD runback against Louisville.
As a receiver, he has 15 catches for 171 yards, 11.4 yards per catch, with two touchdowns.
And although it doesn't show up in statistics, Jacobs is also an excellent blocker.
Jacobs earned special teams player of the week honors from the UA coaches for his play against Louisville, Ole Miss, and Missouri while earning offensive player of the week recognition for his performances against Missouri, Mississippi State, and Auburn.
Jacobs and his Alabama teammates next play against his home-state university when Alabama (13-0) takes on the Oklahoma Sooners (12-1) Dec. 29 in the College Football Playoff Semifinal Game in the Orange Bowl.