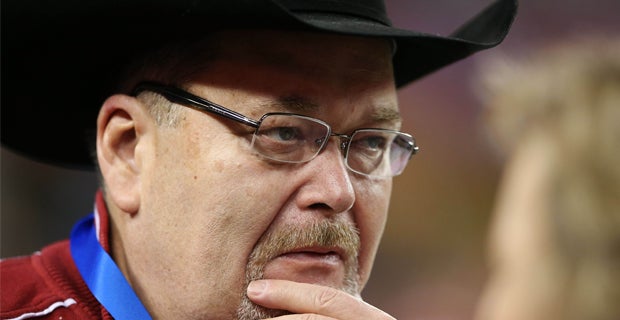 Oklahoma Sooners superfan and legendary WWE announcer Jim Ross won't let an injury stop him from supporting the team today. Ross tweeted an image of his severely bruised face Saturday morning with the message, "Took a bad bump last night. The concrete went over. Still going to @OU_Football tonight. #BoomerSooner"
For those not familiar with wrestling jargon, allow us to translate. Ross seemingly had some kind of fall last night that involved a head-first collision into the concrete. Tougher than a $2 steak, however, an ugly fall will not stop Ross from supporting his team.
Took a bad bump last night. The concrete went over.

Still going to @OU_Football tonight. #BoomerSooner pic.twitter.com/7Hl506SrQ6


— Jim Ross (@JRsBBQ) November 17, 2018
Ross has always been hardcore Oklahoma Sooners fan, and the coaching transition from Bob Stoops to Lincoln Riley did not change that at all. Oklahoma fans almost always see his trademark hat on the sidelines at home or away. Tonight against Kansas will be no different despite his injury.
Ross, a WWE Hall of Famer, remains active as a broadcaster for multiple wrestling companies, including a return to WWE at WrestleMania 33.
It has been a rough few years for Ross, who tragically lost his wife Jan in 2017 when a car hit her Vespa motorcycle. He often credits Oklahoma and former quarterback Baker Mayfield for their support during his toughest of times.
"When my wife got killed last year, during the summer when coach (Lincoln) Riley got named the head coach at OU, ESPN called me to come to the stadium and do an interview," Ross recalled during a May edition of his podcast, The Ross Report. "While I was there waiting my turn to record the interview about coach Riley's ascension and coach (Bob) Stoops retiring, Baker was there. He came up to me and he had tears in his eyes. I thought something was wrong, something occurred to him. He saw to me and he got tears in his eyes because he knew what I was going through with losing my wife. He gave me a big hug. He said, 'JR, I just want you to know I love you and I'll always have your back.' Even today when I think about it, my eyes get teary. Fast forward to the fall. I was at every OU game,. I always stood down by the end zone and watched the guys warm up early, early. Baker puts on an Odell Beckham Jr. display catching the ball, it's amazing. Every game, he came over to me and gave me a big hug. He'd say, 'JR, I love you. Remember, I'll always have your back.' … If I had a son, I'd want him to be like Baker Mayfield. I swear to God."
With Ross on the sidelines, Oklahoma takes on Kansas tonight as 35-point favorites.