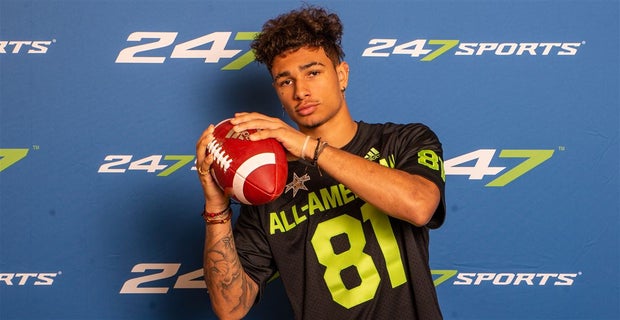 SAN ANTONIO, Texas – Oklahoma is sitting on the nation's No. 7 recruiting class per the 247Sports Composite Team Rankings, tops in the Big 12, with five of those pledges capping their prep career this week at the All-American Bowl.
That number could certainly grow by February's National Signing Day with top-ranked receiver Jadon Haselwood and outside linebacker David Ugwoegbu among the others competing that haven't made a college declaration.
Players arrived on Monday for check-in, practice begins Tuesday and the game is set for Saturday at 1 p.m. EST inside the Alamo Dome with NBC carrying the national broadcast.
The Sooners have made the college football playoff in each of the last two seasons and this 2019 class believes they'll ultimately help the program win its next crystal ball.
"I feel like this class in 2019 it's just a different feeling," said quarterback signee Spencer Rattler who ranks as the No. 1 signal-caller in the country. "Everybody is more competitive than any other class. We worked together at (summer event) The Opening and I feel like we have that swag and competitiveness and ready to get after it. Teamed up with Coach Riley, he's probably the best coach in the country and he'll get us there."
Rattler is joined by Top247 receiver Trejan Bridges, Top247 tight end Austin Stogner and Top247 offensive linemen EJ Ndoma-Ogar and Stacey Wilkins in the Alamo City. None of them ever wavered on playing in Norman.
"There's some things we need to fix in all cylinders, offense, defense and special teams. we're so close," Ndoma-Ogar said. "I believe in Oklahoma, the coaching staff and players and we all want it. I believe we can get it. Possibly next year."
"Coach Riley said we're at the doorstep," Stogner stated. "Getting another crack at it, it will happen. Played Alabama, it was a close game. Starting off right and finishing right. Eventually it will happen."
Bridges plans to put on a show this week in his home state before getting up to OU.
"I going to make something shake, especially with my celebrations because I'll be in the end zone," he said of this week at the All-American Bowl.
Like the others, he sees a championship in his future at Oklahoma.
"I think the defense is going to have to step up a little bit, we're bring in key defensive players, we have (Jeremiah) Criddell, so he should play a big part, Jaden Davis, I think that's what we're missing in the secondary," Bridges explained. "Linebacker I think we're straight, d-line as well. If we get corner and safety fixed up I think we'll be straight. OU offense always going to score regardless."
Bridges said it will score more with him suited up and he has high expectations for himself in year one as well.
"Hell yeah! Filling a big role of Marquise Brown and that only leaves CeeDee (Lamb) as a starter. I'm going to go in this spring, of course go in there work hard in the weight room and class room as well and get bigger and faster as well."