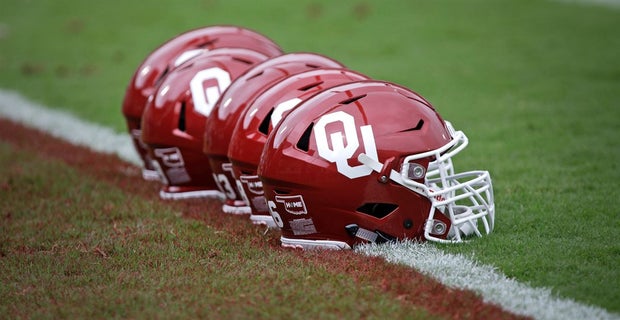 A former Oklahoma walk-on football player has been sentenced to five years in federal prison after pleading guilty to conspiracy to commit wire fraud, which cost investors nearly $900,000, the Department of Justice announced Thursday. 
T.J. Hamilton, who was a walk-on receiver for the Sooners in 2009, pleaded guilty to charges in mid-September after he defrauded investors of $869,300 while promoting false opportunities in a sportswear and nutritional supplements business. According to the Tulsa World, Hamilton falsely told investors he had Blake Griffin and Sam Bradford to endorse anti-acne products and sporting apparel.
Hamilton was sentenced to the maximum penalty of 60 months on Thursday and his prison sentence will be followed by three years of supervised release.
"T.J. Hamilton's extravagant and indulgent lifestyle was fraudulently built on the financial savings of those who believed in him. Hamilton persuaded investors to part with their money by exploiting his status as a former University of Oklahoma football player, using his church connections, making a false claim that he was a chemical engineer, and through the bogus endorsements of his products supposedly from former University of Oklahoma athletes," U.S. Attorney Trent Shores said in a statement.
"Hamilton repeatedly lied to 18 investors in order to bilk them out of almost $900,000. He compounded his crime by lying under oath in civil suits brought by those same investors in order to conceal his crimes. His scheme had a severe impact on victims, most notably a widow who lost her life savings.  In court today, T.J. Hamilton faced those he cheated. He now has to deal with the consequences of his criminal actions."
Hamilton primarily used the gained money for his, 'country music career ambitions and his extravagant lifestyle.' Both of Hamilton's parents, Gena and Timothy Hamilton, were involved in the scheme as managing members of the three companies Hamilton created and claimed to be CEO of. His parents were each sentenced to three months of home confinement and three years of supervised release for their involvement.
In handing down the maximum sentence, U.S. District Judge John Dowdell reportedly said he wished he could sentence Hamilton for longer. "The government limited me to five years," Dowdell said. "I would have gone more." According to the release by the Department of Justice, Hamilton had multiple opportunities to tell investors of the failing businesses but instead, "continued to accumulate investors, systematically draining members of his church and others of an exorbitant amount of money."
Thursday's sentencing ends a long journey. Hamilton was initially indicted in August 2016 before pleading guilty in September and being sentenced to the maximum prison term Thursday in federal court. In addition to his prison term, the court ordered Hamilton a criminal forfeiture money judgment of $869,300, which will be provided as restitution to the victims.
Hamilton made two brief appearances in 2009 (Iowa State, Texas A&M), but recorded no receptions. He is not listed as playing in any other contests during his year as a walk-on.