The Oklahoma Sooners and Texas Longhorns are meeting for the second time in a season for the first time since 1903. The last time that happened, the 'Sooner State' wasn't even a state yet (1907).Oh yeah, it also happens to be for the conference championship and a potential College Football Playoff berth, as the Sooners look to avenge their 48-45 loss to Texas earlier this season. To say the least, tickets are in high demand for the historic rematch.
So why are fans angry? According to the University of Oklahoma and the Big 12 Conference, both schools has only been allotted 8,000 tickets each, with the rest going to third-party vendors such as StubHub and SeatGeek. AT&T Stadium has an official capacity of 80,000, though it can seat up to 100,000.
While all season ticket holders were able to apply for tickets, only a select few were lucky enough to snag seats for the big game in Arlington.
Allocation is on a point system, which takes into account factors like longevity. Same procedure for all 18 of my years at OU. We got 8,000 tickets. There 8-9 times that many season tickets at OU. Unfortunately, we can't accommodate all.


— Kenny Mossman (@Kenny_Mossman) November 26, 2018
Regardless, fans are not satisfied with the answer that they are hearing.
I just drove 2400 miles to support the #Sooners in Morgantown, and my ticket request isn't approved. I'm triggered, to say the least. I'll have tickets from elsewhere, but good lord @Big12Conference– if it's true that 3rd party vendors are getting priority over the University ???? pic.twitter.com/nBLfx4Ff3K


— Devin Newsom (@DevinNewsom) November 26, 2018
Here is what fans were told.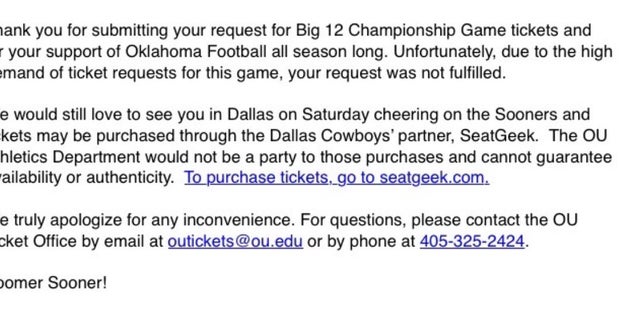 Oklahoma was permitted to purchase more tickets from the venue last year when the Sooners took on the TCU Horned Frogs en route to their third Big 12 title in a row and another College Football Playoff appearance, but that was because many tickets went unsold by the venue. Now fans are having to go to other markets in search of tickets due to the significantly higher demand.
Tickets on StubHub.com are starting at $63.00 to just get in the building for Standing Room Only. If you want an actual seat, you're looking at at least $107.00 for a seat in the upper deck. Don't expect to spend only that though. Expect fees ranging from $2.50 to $70.oo per ticket in some instances.
$70 service fee per ticket…absolute robbery


— Derek aka DMO (@MORTONLB53) November 26, 2018
Limited ticket allotment isn't anything new, but it sure does seem quite unfair for fans to not have a real shot at grabbing an affordable ticket. That is the world of big athletics, though. It will be interesting to see how closely this edition of the Red River Showdown resembles the annual match-up that takes place 22 miles to the east in the old Cotton Bowl.
Maybe they'll bring out some corndogs and fair rides at least?