You learn it as a child: "If you can't say something nice about someone, don't say anything at all." (Considerably different than the line attributed to the satirist, Dorothy Parker, "If you can't say something nice about someone, come and sit down here next to me.")
College football coaches, in particular, take the original a step further. "If you can't say something nice about the team you are preparing to play, make up something grand."
And the players of those coaches learn it, too.
Alabama's football team went back to the practice field Friday to begin preparations for Oklahoma, and there were compliments aplenty from Crimson Tide players. Bama (13-0 and ranked No. 1 in the nation) takes on Oklahoma (12-1 and the No. 4 seed in the College Football Playoff) meet in the Orange Bowl semifinal game Dec. 29.
Two Alabama men – running back Josh Jacobs and tackle Jonah Williams – are offensive players who will be going against an Oklahoma defense that is pretty much on the woeful side statistically.
Alabama All-America Deionte Thompson, on the other hand, is safety who has a truly monumental task facing what he calls a dymanic offense, and the Sooners have the numbers to prove it. Thompson didn't have to
Any college football follower knows the name of at least one Oklahoma player, quarterback Kyler Murray. He's the winner of this year's Heisman Trophy as the nation's best college football player. And even though Alabama followers and players thought the award should have gone to Tide quarterback Tua Tagovailoa, Murray's statistics were incredibly good.
Murray has completed 241 of 340 passes (70.9 percent) for 4,053 yards and 40 touchdowns against only 7 interceptions. He has also run 123 times for 892 yards, 7.3 yards per rush, for 11 touchdowns.
Those numbers enabled Oklahoma to lead the nation in total offense, 578 yards per game, and scoring offense, 49.5 points per game. The Sooners take on a Bama defense that is sixth in the nation, allowing 178.4 yards per game, and third in scoring defense, allowing 14.8 ppg.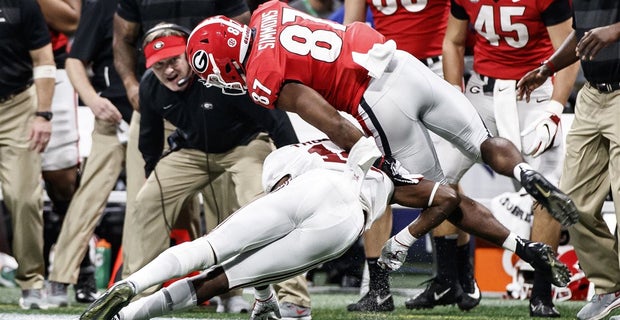 Thompson said, "They're very dynamic. That's the perfect word to describe them — dynamic. They have athletes all across the board. Guys that are fast, guys that are good in open space, elusive, can make you miss. Just problems they can impose in multiple areas of the game. From what I've seen on film, they dominated all of their competition this year. It wasn't really much that people could do with them just because the athletes they have They have starting receivers and receivers behind them that can really go, that are very good guys, and that's something we have to be ready for.
"You got a Heisman Trophy winner, a very elite offense that can score at will and put up numerous yards in a game. It's a challenge that we have to step up and be ready for."
Meanwhile, Alabama's offense – fifth in the nation at 528 yards per game and second in scoring offense at 47.9 points per game – goes up against an Oklahoma defense that is 124th among the 130 major college teams, giving up 291.4 yards per game and 32.4 ppg.
Looking for a particular weak spot? The Sooners are last in the nation, No. 130, in pass defense, giving up 291.4 yards per game. Why would anyone try to run, you ask? OU is 69th in the nation – tied with East Carolina — in rushing defense, having given up 2,037 ground yards, 4.0 per rush and 156.7 per game. Alabama is third in the nation in passing offense (325.5 ypg) and 25th in rushing (202 ypg).
Which makes one wonder what Alabama All-America offensive tackle Jonah Williams has been…er, watching.
"I've watched a couple of games," he claimed. "They're a really good group.
"I think there's kind of a narrative that they're not, and that's a product of the stats that people put up in the Big 12. The way they play their offense, it's like the offense I played in high school where we're putting 60, 70 points on everyone. It doesn't necessarily mean they're bad defenses, that's just kind of how that offense works.
"So I think they have talented guys. They're going to pose a lot of challenges. They fly around. They've made big plays in big games. I was watching the West Virginia game, and that was a back-and-forth game, and they had a strip sack, fumble recovery for a touchdown.
"When you're in one of those games where you have to keep scoring to stay up with each other, you know if they (A.) stop you then (B.) get points off of it that's a 14-point spread that they just created.
"I think that it's a really good group, and luckily we have a long time to prepare for them, so that's why we're starting now."
Josh Jacobs, the Most Valuable Player in Alabama's Southeastern Conference Championship Game victory over Georgia, didn't go hardcore on praise of the Oklahoma defense.
"I've watched them throughout the year a little bit because I know a lot of people that play on their team," said Jacobs, a native of Tulsa. "So, I kind of keep up with them a little bit. But I haven't watched too much yet.
"It doesn't change. We're still going to try to do what we do. Offense, whatever we can do to win the game so that is going to be our focus going into it."