TUSCALOOSA, Ala. — When Alabama and Oklahoma meet on the field at Hard Rock Stadium in the Orange Bowl semifinal on Dec. 29, it will be a battle of the nation's top-two scoring offenses.
The Crimson Tide averages 47.9 points per game, which ranks second nationally behind only the Sooners (49.5 ppg). So, the matchup is prematurely being pegged a shootout in South Florida.
But the defensive statistics aren't quite as close.
Oklahoma is tied for 96th in the country in scoring defense, allowing 32.4 points per game, and Alabama is fourth with a much better 14.8 ppg average. Which makes it understandable some of the Crimson Tide's defensive players aren't thrilled with the early talk of a shootout. 
"As a defense, we take it personal because that's not something that we just let people talk, like, 'It's going to be a shootout,'" Alabama inside linebacker Mack Wilson said. "Nah, like we've got a good defense, so I mean it's something our defense is definitely taking personal.
"But we're just going to work, continue to work until it's time to go play ball."
After 13 games, Alabama boasts the nation's No. 10 total defense, No. 13 passing defense and No. 18 rushing defense. The Sooners don't crack the top 50 in any of those categories and are tied with Houston for the country's worst passing defense at 291.4 yards per game.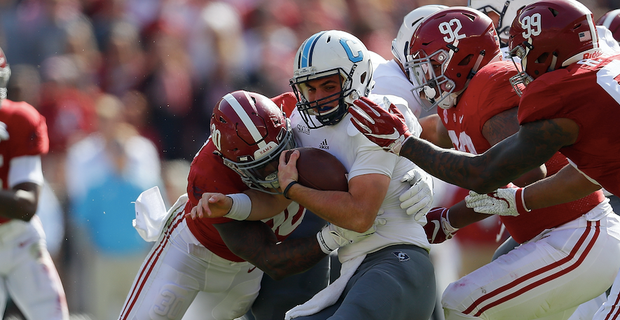 But everyone knows OU's offense is lethal.
Oklahoma has a Heisman Trophy winner at quarterback in Kyler Murray, an offensive line that just won the Joe Moore Award, a pair of running backs that combined for 1,949 yards and two wide receivers with 1,000-plus yards and 10 touchdowns — if Marquise Brown plays.
Watching film, the players have picked up on that, too. And know they can't make mistakes.
"We looked at everything the defense did well and everything the defense did not well," defensive tackle Quinnen Williams said. "Like me, myself, I looked at all the missed tackles that all these teams had against Oklahoma. They were in great positions, they were in great spots, but they just missed the tackle. That just goes back to the great players Oklahoma has.
"Like Kyler Murray can run around you and make you miss in the pocket, throw the ball deep, extend plays. The running backs make you miss; first contact probably about five yards downfield in all these games. Just looking at all the mistakes these other teams made and try not to make the same ones."
In trying to eliminate those mistakes, Alabama looked to its most recent game against Georgia.
The Bulldogs led 21-14 at halftime after holding the football for 20:52, running 20 more plays than Alabama (43-23) and gaining 81 more yards (227-146) in the first half. Georgia gained 51 yards on its lone scoring drive of the first half, but the Tide limited them to 176 to close out the game.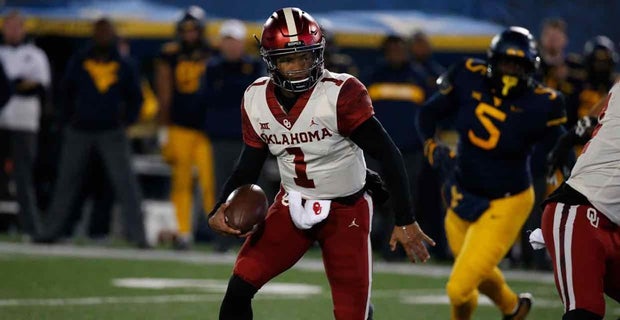 To avoid the predicted shootout, UA's defense hopes to duplicate its second half in Atlanta.
"Playing a great team, you can't afford to make as many mental errors as you did in the past," Wilson said. "I feel like when you're outflanked, they're going to hit you where it hurts, basically. I mean we've just got to make sure that we communicate better and just make sure that everybody's on the same page because like Coach (Nick) Saban always tells us we can't make those little mental errors and stuff like that against a good team. They're going to hit us where it hurts, basically."
Williams added, "The most physical team is going to win and the thing I took from the first half of the Georgia game, that first half, it was a physical game and the team who came out to win in the first half was the most physical team. So, you can't just wait to get punched in the mouth to react from it because some team isn't going to react like Georgia. I mean, Oklahoma has the most explosive offense in the country. So, it's like, they're not going to let up.
"I know for sure they're not going to get tired. They're not going to let up so if we get punched in the mouth by Oklahoma, you know what I'm saying, something isn't going to go right. But if we come out and strike fast and strike hard and be the most physical team for 60 minutes, it's going to go like the way we want it to go."
No. 1 Alabama will face No. 4 Oklahoma in Miami Gardens, Fla., on Dec. 29, at 7 p.m. CT. 
Contact Charlie Potter by 247Sports' personal messaging or on Twitter (@Charlie_Potter).
*** Don't miss a VIP update with our FREE trial of BamaOnLine. Sign up HERE ***